Inside the helmet of Javier Tato
A interview with the New Olders official test man.
Hey, Tato! First of all we want to say it have been a pleasure to work with you since almost 2 years now. You are a great guy, a good friend and very talented rider. 
– Thanks! I love you guys too. New Olders is fucking awesome and im glad to be part of ur team.

Can you give us some information about you as Javier beyond the rider? Where you live, what you do, which places you like to visit and things you love.
– Well, I live in madrid, I have lived in many countries in all my life, but most of it was in Madrid. Im a Wind Turbine Engineer and I work in a big company called Altran on wind energy stuff and im very happy with it. I love to travel everytime I can skating, snowboarding, surfing, or whatever, I do a lot of weird and inertia sports, I hate football and all the big-extended sports out there.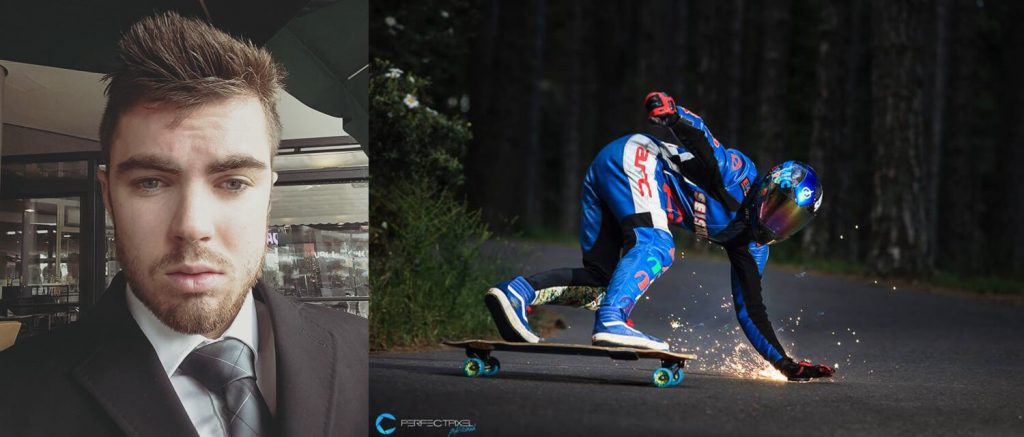 As anyone can see in the Instagram photos, a lot of our helmets had already passed through your hands. Most of them since the prototype phase. So, tell us: Which helmet is your favourite? And why?
– My favourite helmet was the Cannonball Fit, it does not exist anymore but now my favourite is the one that im riding since 1 week ago which is the new Cannonball Fit. it's so light and so beautiful, I really love it, it's definitely the next step on helmets improvement. It's basically because of the design and the weight, you are always looking for a comfortable helmet and that's hard to find, also, i would say the opportunity to build your own design is something that only New Olders is doing. Most of us, often, if you are not used to tuck for a few days, when tucking for the first time with a helmet may take pain on your neck afterwards, a helmet with less weight can solve that problem. Also, because of that, we choose a lot of times a half shell instead of a full face, when everyone knows a full face is safer, but less comfortable. Seems like this new one gonna gain a lot of points on that.
How about the events in your land? Which ones are most known? And which ones are you planning to participate?
– Spain is FULL of events all the year. The most DOPE ones are definitely de Riders event (Xert, Salzadella, Sanmateu and 7H) the 4 distributed all over the year. But there are other that are awesome too, Velefique, Nueno.. all of em are freerides and we have a really good time. Which ones I will be attending? ALL OF THEM. Since they are usually on weekends, I can do all of them.
It sounds like a lot of fun! We are sure you will rock at all. Do you have something to say that may help beginners riders? It's always useful to hear from who already passed through a lot of situations.
– The longboarding scene has changed a lot, and every rider has his own phases to take, you can take a lot advices but every single rider has his own steps and phases. My big and most general advice is always to skate, travel and do whatever it makes you happier, you must follow the fun and the other side of the sport, knowing people from all over the world, new places, make friends and have fun, at the end, that is what will stay with you forever.
Perfect! Thank you for your time. We wish you the best in your journey as a rider and also in life. Now go grab your new Carbon Cannonball V2 and have fun! 
– ❤❤❤❤ 😀